Pipe And Drain Cleaning
Most homes' plumbing systems are comprised of a complicated web of pipes & branch lines. Pipes and lines convey water to plumbing fixtures, appliances, and outdoor spigots throughout a home. A main pipe brings water into the house from a public or private source. Branches from the main pipe provide water to various plumbing fixtures, appliances, and locations outside the home.

What Clogged Your Drains?
Plumbing fixtures include bathtubs, showers, and toilets. These fixtures' clogged drains & pipes must be fixed as soon as possible. A blockage in a certain type of drain or pipe in your home is more likely to occur in that particular area. Disappointments such as overflowing toilets or no drainage can be caused by the gradual accumulation of debris such as food scraps, grease, coffee grounds, and other substances in kitchens drains and pipes. Hair, soap, and other debris can clog bathtubs and showers. It's possible to get a clogged bathtub or shower drain from even a tiny sliver of soap. Clogged drains are frequently filled with human hair. A spring-like nature leads it to coil and become lodged in pipes and drains, and it will not decompose.
Once the drain is unclogged, your kitchen sink & bathroom sink should drain immediately. You should call Whitton Plumbing if you notice that your kitchen sink, bathtub, or shower is taking longer than usual to drain. We will use either high moisture jetting or mechanical snake to remove dirt, silt, or grease from the pipes. We'll clear your clogged pores completely using our extensive plumbing expertise, so you can keep using your home's plumbing fixtures without worry.
The Upkeep Of Drains And Piping
Once your drain are free of obstructions, you should do routine maintenance on them to keep them that way. Drains should be cleaned every week to remove soap scum, grease, and other material. You can also use a semi drain cleaner once every 6 months to keep your home's plumbing free of clogs without harming your pipes.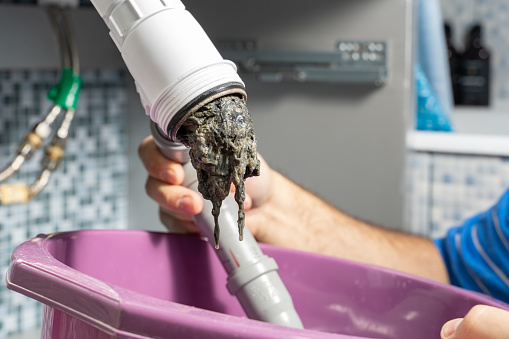 Blockages in toilets occur frequently owing to the accumulation of trash or paper that was not meant to be flushed. Paper towels, baby wipes, and facial tissues can all produce a clog in your toilet. If your bathroom is damaged or flooded by a blocked toilet, you'll be on the hook for expensive repairs. It is therefore important that you seek professional help when dealing with a clogged toilet. Whitton Plumbing has specialised instruments for cutting through toilet clogs and making sure your pipes is free of any obstructions that could create difficulties in the future.
Drain And Pipes Outside The Home
Drains in basements, laundry rooms, patios, garages, and driveways can become clogged, preventing water from being drained properly. In the basement, laundry room, patios, garage, and driveway, Whitton Plumbing can swiftly clear obstructions so that flooding damage is kept to a minimal.
Tree roots and sand can potentially clog plumbing leading outside your home. With our high pressure jets, Whitton Plumbing may clear blocked sewage pipes & systems, leader lines & perimeter drains, using a pressurised umbrella of waters to clean blocked lines & scrape debris from the inside of pipes.
If a clogged drain / pipe isn't taken care of quickly, it can do serious damage to the property & belongings. Call Whitton Plumbing right once if your pipes or drains are clogged. We are Arizona's leading plumbing service provider, having served more than 75,000 households in the state. Whitton Plumbing provides free phone estimations for plumbing repairs & renovations, and ensures a speedy response to your piping requirements 24 hours per day, seven days per week.