Emergency Plumbing Repairs
It's a great day! Before you know it, there's a plumbing emergency. Then, while you work to limit water damage & restore repair service to your home, everything gets frenetic. To ensure that you are prepared for any unexpected plumbing issues, an Arizona plumber is available. Simple solutions for everyday problems!

Repairs To Plumbing Systems
Problems with fixtures or pipes are the most common sources of plumbing issues. The pipes & fittings that make up the plumbing system as a whole rarely give rise to issues.
After you've repaired a broken pipe, make sure no more water flows through it until you've finished repairing it.

Shut off the supply of water to the item or faucet that is leaking, then fix it.
Pipe Replacements And Repairs
In the course of building a house, plumbing pipes are inserted in the walls and floors. They deliver clean, fresh water to a variety of locations, including the kitchen, the bathroom, the utility room, and so on. Septic tanks and sewers are two different systems that transport waste water from the bathroom sink / toilet to a main drain of the property.
Cast iron, brass, copper, steel sections, and plastic are all options for pipe. Pipe fittings allow pipes to be turned or attached to a fixture, such as a faucets or water heater, by connecting them together.
There are a variety of different ways to attach fittings to pipes, each with their own unique installation requirements. Copper pipes, for example, can be linked using compression or flared fittings or by soldering them together. Fittings made of plastic screws are used to connect plastic pipes. The joining of plastic & metal pipes can also be accomplished with the aid of transition fittings.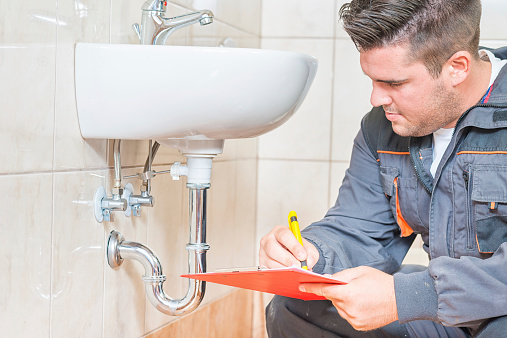 Repairs To Faucets
Water can be drawn from a pipe using a faucet. The water flow is controlled by a simple valve on a household faucet. Valve types include compression (also referred to as stem-and-seat), disc, ball, and cartridge. Compression or long-stem compression valves are the most common types of outdoor faucets. To close and open the valves, faucets use a variety of lever and handle layouts. Because of this, they appear to be distinct.
Supply lines for hot and cold water are located below the faucets. While working on a faucet, shutoff valves in the lines could be turned off.
Identifying the type of valve within a faucet is critical to repairing it correctly. To begin, determine the manufacturer and model of the item. You can then go to a plumbing supply home or store centre with the information in order to obtain repair parts/kits. To find out what brand, model & even part numbers are available, you'll need to look in your faucet's owner's handbook.
Toilet Repair
When it comes to bathroom fixtures, a toilet is one of the most common. Flush and fill (ball cock) mechanisms work together when a toilet gets flushed. This elevates the flush valve, allowing tank water to flow into the toilet bowl. Using the syphoning action created by the rushing water and the drain's opening, sewage is forced down the drain. Floats connected to the ball-cocking mechanism sink when the tank's water level decreases. In the ball cock, the fill valve is activated when the float lowers, which opens the valve. During this time, the flush valve automatically shuts off when the tank is empty. To fill the tank, you must open the fill valve, which means you must also close the flush valve. The ball cock's fill valve is closed by the float when it reaches the specified level. The tanks should be full & ready for another flush at this time.